Shopify is very versatile ecommerce platform. It is an easy to use ecommerce platform for sellers who wish to start online sales quickly and efficiently. Shopify comes with a plethora of themes that can be used to quickly set up a website and save time. It also has numerous apps that easily integrate to add all kinds of features. V Group has strong exposure of the design and development of custom features on Shopify. We provide complete support from design and development of your site, to the final delivery of your project.
Shopify Key Features
Flexible and adaptive Content Management System
Unlimited Product listings
Responsive design templates
Search and Filters
Preview and Publish
Instant Update
Abandoned checkout recovery
Set up multiple Customer Groups
Built-in upsell and cross-sell feature
Advanced SEO
Multiple Payment & Fulfillment options
Integrate and Sell on Facebook, Pinterest
Easy Returns
Secure and Level-1 PCI compliant platform
Easy Third party integration
Huge App store
24/7 Chat & Email Support
Daily Backup
Vgroup Apps on Shopify
Product Partial Update


Product Partial Update app helps sellers to update the attributes of the product variants using the SKU# through csv file.

buy now
CARTS


CARTS is a tool developed for Shopify which helps sellers to view all lost carts, send emails to the customers with a purchase link and recover revenue.

buy now
Shopify Integration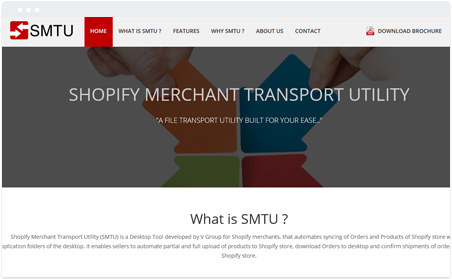 Shopify Merchant Transport Utility
Shopify Merchant Transport Utility (SMTU) is a Desktop Tool developed by V Group for Shopify merchants, that automates syncing of Orders and Products of Shopify store with the application folders of the desktop.
read more
Our Pride